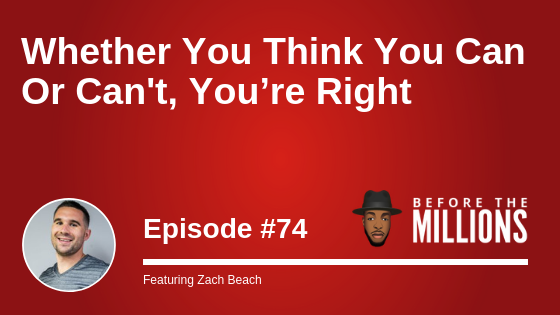 Zachary Beach has been around the real estate business for over 7 years. He has been a part of or has been mentored in a number of facets in the real estate world. At age 25, he decided to jump into the family real estate business. Zachary has completed an owner financing deal on a property that is worth over a million dollars and purchased it for $940,000 with principal only payments of $2500 per month. Zachary went from bartender to million dollar business owner in just under 3 years.
On today's episode, we talk to Zachary about how to get started in lease options and owner financing deals. You'll learn how to accelerate your real estate investing by doing this 1 thing (it has nothing to do with real estate). We also talk about misconceptions about owner financing deals and how you can create systems to help scale your business to automate it and create a lifestyle of your dreams.
Key Points From This Episode:
Failing your way forward and taking action is the best way to get started in real estate
Breakdown of Zachary's first real estate transaction & how he was able to make a profit $60K
The #1 action step you can do today if you want more money to scale your real estate investing
What you need to look for when doing deals with real estate owners and buyers
Links Mentioned in Today's Episode
Zachary's Website: http://www.smartrealestatecoach.com/
Zachary's Favorite Books:
10X Rule by Grant Cardone https://amzn.to/2xAuGzk
Never Split The Difference by Chris Voss https://amzn.to/2DrteF1
Getting To Us: How Great Coaches Make Great Teams https://amzn.to/2DrCgBP
No B.S. Time Management for Entrepreneurs https://amzn.to/2xOm4EQ
Download any 2 audio books for free when you try audible for 30 days: https://beforethemillions.com/book
Zachary's Favorite Lifestyle Design App: Investor Fuse: Automatically nurture your leads. Follow up faster and more often. Less clicking, less thinking, more time to flip houses. https://www.investorfuse.com/
Access The Best Strategies, Tips & Advice !
Every week, we send an email sharing my best advice, tips and strategies related to Real Estate Investing. Each of these weekly emails contain relevant and actionable information that can help you no matter where you are in your investing journey.