Your Network Is Equal To Your Net Worth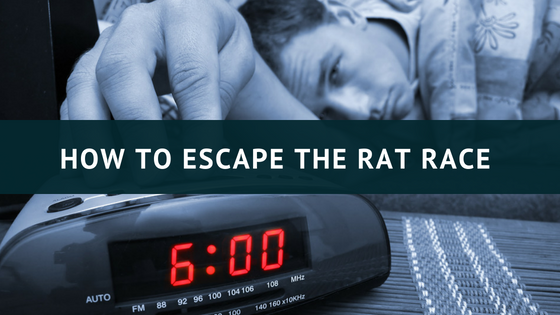 The most proven method the escape the rat race is to create passive residual income. We'll want to build and acquire assets that pay us around the clock rather than exchanging time for money.
The rat race is a term that is used to describe the frustrating financial grind that most people are stuck in. It's when you are trapped in a time-consuming job, saddling one's self with high expenses: a heavy mortgage/rent, bills, loans, children, and liabilities.
Most people in the rat race are only 1 paycheck away from financial ruin and have no idea.
So how do you escape the rat race?
Here are 3 actions steps you can do today escape the rat race with Rental Real Estate:
Replace procrastination with action TODAY. In order to succeed, you must become a person of action. Reading books and taking classes will only get you so far. Taking action is the key to success. Don't let inaction and fear keep you from reaching your goals and aspirations. Take some time today to connect with property managers, real estate brokers, and lenders to discuss your options.
The most effective investors also connect with individuals who've successfully escaped the rat race for a formidable game plan. Leverage the experience and knowledge of these individuals as you continue to build a team around your investing efforts.
Add one new connection to your network every week. Effective networking will often lead to partnerships and the cultivation of long term business and personal relationships that can bode well for both parties for years to come. Challenge yourself to add one new person to your network every week to help you achieve your financial freedom goal.
Work with the best Real Estate Mentor for your needs. Every real estate investor that is serious about succeeding should seek some form of coaching, mentorship or consulting. If cost is a barrier, then understand that this "investment" is to create financial freedom for yourself and family for years to come (otherwise known as multi-generational wealth and freedom).
Can you really put a price on that when the returns are infinite? You may look to start small then scale your coaching and mentoring budget but you don't want to cut any corners in this department as learning from the very best is how you, in turn, can become the best.
The key is to no longer trade your time, a finite resource, and acquire or build an ATM of a business. For investors, our network is equal to our net-worth so as you continue to take action foster meaningful relationships and learn from those ahead of you, remember to keep pressing ahead. This is your way of telling the universe that you are a serious newcomer in the space – watch it bend to your will and give you your desired outcome.
Access The Best Strategies, Tips & Advice!
Every week, we send an email sharing our best advice, tips and strategies related to Real Estate Investing. Each of these weekly emails contain relevant and actionable information that can help you no matter where you are in your investing journey.