Best Of 58: Command An Abundance Of Wealth Using The Law Of Attraction With Reggie Brooks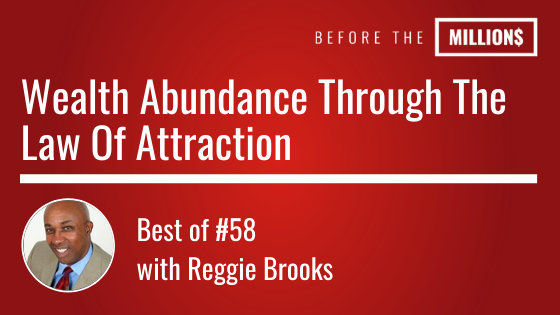 Reggie Brooks has achieved what many people consider to be impossible. He went from making $36,000 per year at the local telephone company, to making over $40,000 per month in his real estate business. Starting out with very little money, Reggie began his investment career in 1986.
By educating himself about hidden opportunities in real estate and making well placed investments, he has become a multi-millionaire.
To date, Reggie has spoken on programs with such notables as Donald Trump, Magic Johnson, Suze Orman, Tony Robbins, George Foreman, Rudy Giuliani, Alan Greenspan and Russell Simmons, to name a few.
On today's episode, you'll learn how to leverage the law of attraction to achieve financial freedom and all around success in your life. Reggie applied the principles (and continues to apply them) for decades to make reality everything that he desires in this world.
Key Points From This Episode:
The #1 thing Reggie studied to help attract more opportunities for himself and his family
What is the real "The Law of Attraction" and how you can use it to achieve financial freedom
How reading the book "Psycho-Cybernetics" changed Reggie's mindset forever
Links Mentioned in Today's Episode
Must Read Books:
Reggie's Website: Reggie Brooks
Reggie's Favorite Book: Psycho-Cybernetics
Reggie's Favorite Lifestyle Design App: Road Warrior is a multi-stop route planner that helps you optimize, schedule, and navigate your routes.
Access The Best Strategies, Tips & Advice!
Every week, we send an email sharing my best advice, tips and strategies related to Real Estate Investing. Each of these weekly emails contain relevant and actionable information that can help you no matter where you are in your investing journey.