BTM 101: My Spouse & I Want To Be Landlords with Pongee Barnes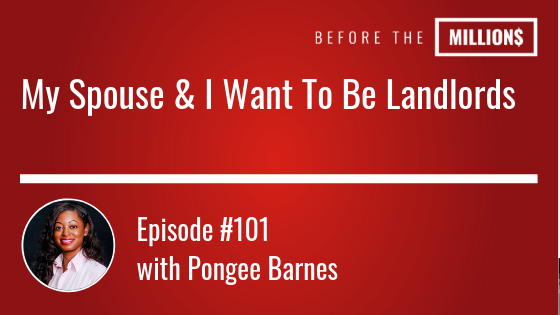 Born and raised on the south-side of Chicago, today's guest, Pongee Barnes embarked on her real estate career as a college student in 2005 at the age of 20, buying her first condo.
From 2008-2011, Pongee owned a furniture rental staging business which birthed from her passion of staging and flipping homes. Today, as a seasoned investor, more than her passion for real estate she has a central focus on inspiring black millennials to invest.
On today's episode, we discuss the ups and downs of "hands on" landlording but more specifically, managing your rentals with a partner.
Key Points From This Episode:
How Pongee lost money on her 1st deal
Why Pongee started staging property, renting furniture & flipping homes
Why Pongee decided to drop out of Law School
How to take advantage of "Cash for Keys"
If and how you should partner with your spouse
How to raise a family around real estate investing
Links Mentioned in Today's Episode:
Before the Millions Books:
Millionaire Next Door by Thomas J. Stanley
Lifestyle Design App:
Free Training: Building A Lifestyle Business Through Real Estate Investing