BTM107: Creative Strategies for Buying Back The Block with Kyara Gray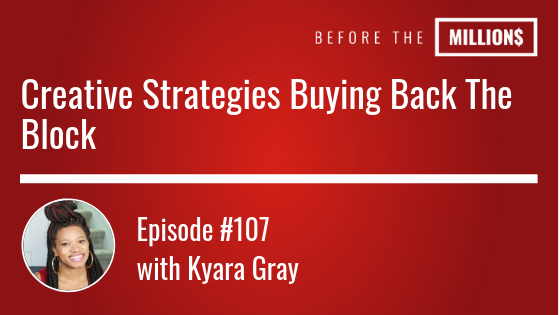 As she takes on multimillion dollar projects, Kyara Gray has a special focus on "buying back the block" and investing in forgotten neighborhoods but in a unique way. Kyara has a strong focus on creative financing and using other peoples money when getting deals done.
On today's show we discuss how Kyara found her first non-profit lender. She is a strong advocate for creating relationships through meet-ups and other in person networking events. Her knack for connecting the dots and and building relationships to procure funds for her deals have proven to make a great episode.
Key Points From This Episode:
How to find a non-profit lender
Kyara's creative financing techniques
How Kyara and her husband run their 2 person business
How gentrification can help underserved communities
The plan to rebuild Baltimore
Why it's important to have an abundance mindset
Links Mentioned in Today's Episode:
Before the Millions Book:
Think & Grow Rich by Napoleon Hill
Listen to this books for free!
Lifestyle Design App: Slack