BTM108: Reprogramming The Mind & Stock Trading Made Easy with Tyrone Jackson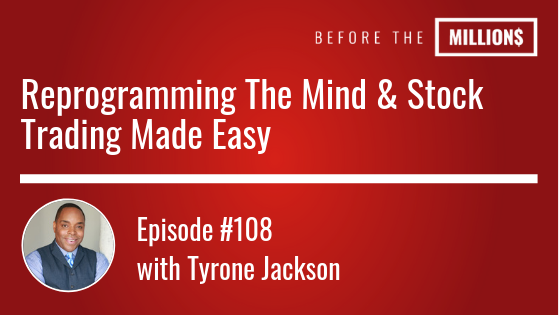 Tyrone Jackson teaches retail investors how to successfully trade and invest stocks and
options, and to profit in every market environment. As a stock market trader, mentor, and best-selling author, he has built his reputation on his unique ability to make stock market trading and investing accessible to people without a financial education.
On today's show we discuss the inter-workings of our minds and why we naturally shy away from money. We discuss how some of these mindset blocks stem from childhood experiences and teaches us how to use visualizations as a means for reprogramming our money mindset. Lastly, we discuss key indicators for choosing the best stocks and how to invest with a big money manager.
Key Points From This Episode:
How to reprogram your belief system around money
How visualizations can help your wealth habits
The spiritual mindset to money
Tyrone's 1st real estate deal gone wrong
Way to pick the best stocks
Links Mentioned in Today's Episode:
Before the Millions Book:
Secrets of A Millionaire Mind
Listen to this books for free!
Lifestyle Design App: CNBC
Fundrise – Inventing A New Way To Invest In Real Estate
BTM LIVE Workshop – Click here!