BTM109: (2 Year Anniversary Episode) Overcoming Call Reluctance with Daray Olaleye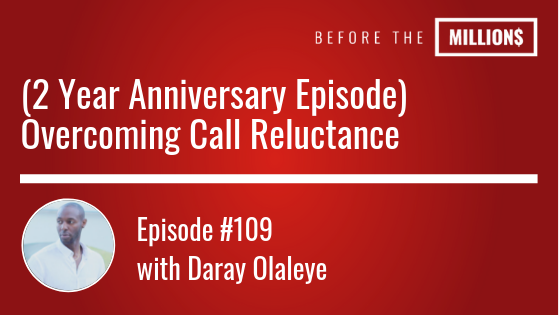 On today's episode I am interviewed by Zachary Beach to discuss Call Reluctancy
This is a huge topic that's critically important for your real estate business!
If you're not finding deals with sellers on the phone, you should be.
If you don't know how to deal with the FEAR that surrounds it, it can paralyze you and your business.
I used to hate making those CALLS and would do anything to avoid them. But when I started using the phone my business jumped by 1000% almost instantly.
Without sales you've got no business. Using the phone is the fastest way for you to get new leads.
On this episode, you're going to learn a simple shortcut that not only gets you to make every call, but guarantees a win each time you do.
What we're going to cover:
· WHY you're afraid to pick up the phone
· WHEN it's red flag
· HOW to overcome it
Links Mentioned in Today's Episode: