BTM133: Thinking Bigger As A Serial Intrapreneur In Real Estate with Justin Stoddart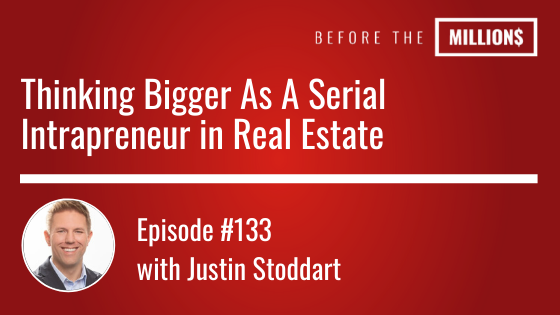 Justin Stoddart, today's guest, was raised by entrepreneurial parents and as a result, was involved in business conversations as early as age five. Justin enjoyed a stint in 100% entrepreneurial role until a few life events allowed him to realize that he would enjoy a more prosperous and fulfilling life as an "intrapreneur" within an organization.
I love how Justin was able to design his lifestyle within the business setting. Now, his day-to-day entails being knee-to-knee with real estate agents through individual or team consultations, trainings and masterminds.
Key Points From This Episode:
Becoming irreplaceable as an intrapreneur
How Justin created a powerhouse mastermind
Practicing the abundance mindset in business
Applying the go-giver concept
Are you a go-getter or a go-giver?
Links Mentioned in Today's Episode:
Recommended Book:
10X Rule by Grant Cardone
Listen to this books for free with Audible!
Lifestyle Design App: