BTM 15: Can Gumballs & Stickers Really Fund Your Retirement with Matt Miller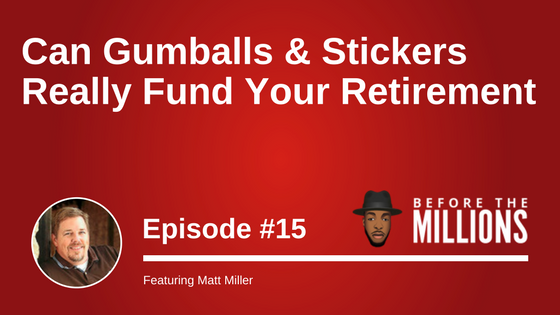 On today's show we welcome Matt Miller. Matt started his career in the corporate world, but realized that he needed to take a different route if he wanted to get ahead. Inspired by his interest in "passive income," Matt got involved in bulk vending. He is now the President of a vending company, School Spirit Vending, which combines vending and school fundraising ventures into one.
School Spirit Vending's Hassle-Free Fundraising Program is helping 1000's of schools across the country raise money, while providing a profitable business opportunity for those seeking personal freedom and added financial security.
In this episode Matt talks about how he transitioned from the corporate world to becoming an entrepreneur. We also discuss his journey of starting a business and learning about all the aspects of business and how he has grown School Spirit Vending into the empire that it is today.
Key Points From This Episode:
Matt tells us his journey from being a pilot to the corporate world to starting a business.
Find out how the company School Spirit Vending was born.
How Matt was taught from a young age to trade time for money.
Hear the impact Robert Kiyosaki's book, Rich Dad, Poor Dad, had on Matt.
Learn how Matt picked his locations through knocking on doors.
Discover at what point Matt realized that this was a viable business option.
Listen as Matt explains how he used his earnings and invested it back into the business.
Hear how Matt's business didn't take away from his career but he also didn't allow his career to take away from his business.
Take away some key advice for entrepreneurs wanting to get started.
How Matt has successfully grown his business.
Find out how Matt went about growing his team and finding the right people.
Why Matt chose to turn School Spirit Vending into a franchise and how he set it up.
Hear a success story from one of Matt's franchisee's and their process.
Types of vending machines in schools and what isn't allowed.
Find out more about Matt's courses and what's in the pipeline for him.
How Matt sacrificed time and money to get to where he is today.
Hear why too many people are getting ready to start instead of jumping into the game.
Tweetables:
[spp-tweet tweet=""I can't stress enough guys, you've got to fake it till you make it." — @ssvbusiness "]
[spp-tweet tweet=""Too many people try to live off of something way too early instead of letting the baby grow on its own." — @ssvbusiness "]
[spp-tweet tweet=""The sky is the limit if you're willing to start where you're at." — @ssvbusiness"]
[spp-tweet tweet=""One way you know that you're onto something is when people start asking you if they can be a part of it." — @ssvbusiness "]
Links Mentioned in Today's Episode:
— School Spirit Vending Business
— School Spirit Vending on Facebook
— Robert Kiyosaki's book, Rich Dad, Poor Dad
Access The Best Strategies, Tips & Advice!
Every week, we send an email sharing my best advice, tips and strategies related to Real Estate Investing. Each of these weekly emails contain relevant and actionable information that can help you no matter where you are in your investing journey.