BTM174: Budgeting, Saving and Investing for Financial Freedom with Todd Miller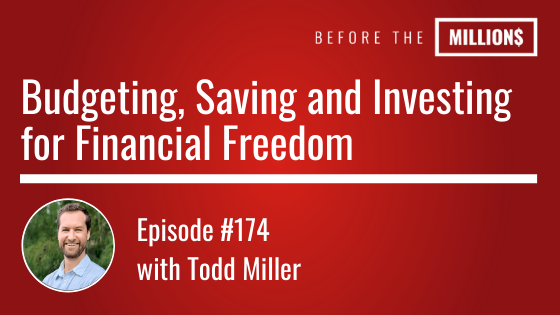 This week on the podcast, I interviewed a real estate investor/financial coach Todd Miller, who has spent the past 11 years building up his passive income portfolio to quit his job.
His strategy was straightforward and not at all different from the plans many of us make to leave our soul sucking day job.
You know… Budget, save, invest and retire early on the beach somewhere.
If only it were that simple.
See we can know the steps but not understand them. We can understand the steps but not implement them. We can implement them but not succeed.
There are numerous areas in which we can fall short of the ever elusive financial freedom that we desire.
But if you've known me for any stretch of time, you are aware that I've made it my mission to help all of us better succeed.
Rather than claiming life changing results in a single episode, we wanted to help you with the baby steps for budgeting, saving and investing in hopes that these small actions will have massive results for you later down the line. This is a good one!
Links Mentioned in Today's Episode:
Recommended Book:
The Alchemist by Paulo Coelho
Listen to this books for free with Audible!
Lifestyle Design App: