BTM 18: The Billion Dollar Real Estate Agent with Karen Briscoe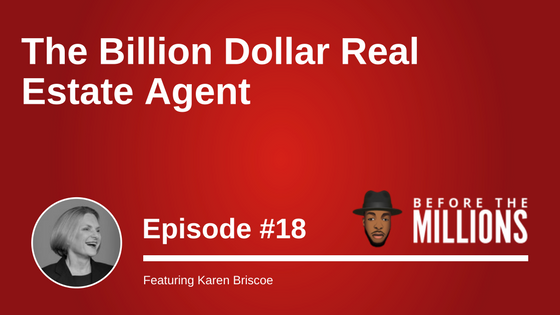 On Today's show we welcome the billion dollar real estate agent, Karen Briscoe. Karen is Principal of the Huckaby Briscoe Conroy Group (HBC) and author of "Real Estate Success in 5 Minutes a Day". The HBC Group has been named to the Wall Street Journal Top Realtor® Team List. Over the years, the group has sold over 1,500 homes valued at over $1.5 billion.
In this episode Karen walks us through her path and how she's sold over a billion dollars of real estate and how she came from an entrepreneurial family and is a very driven person. She also shares with us on her book, that happens to be one of the top selling real estate books on Amazon and we talk about the real truths of being an agent in the real estate industry.
Key Points From This Episode:
Karen shares with us her journey to getting into real estate.
How your internal drive leads to success.
Positioning yourself as a lead generator and the benefits thereof.
Lead tactics and how to make them work for you.
Staying relevant in your industry.
The importance of constantly reinventing yourself.
Knowing the inventory to truly understand where the trends are going in the market.
Karen's advice to entering the real estate business.
Why the market crash in September of 08 was Karen's worst entrepreneurial moment.
Karen's reasons for writing her book, Real Estate Success in 5 Minutes a Day.
How Karen combined inspiration and information to create her book.
Hear why Karen's book is not only for real estate agents but for people in any business.
Key fundamentals mentioned in Real Estate Success in 5 Minutes a Day.
Karen shares on some success stories.
Discover the benefits of reading Karen's book.
Why The Miracle Morning by Hal Elrod is Karen's favorite book.
Find out what Karen's miracle morning consists of.
Limiting beliefs and why they have been Karen's biggest sacrifice.
Karen's husband has her biggest support system
And much more!
Tweetables:
[spp-tweet tweet=""Having the lead is what starts it all." — @KarenBriscoe "]
[spp-tweet tweet=""Just because you were successful at one point, there really is no one and done; it is a constant reinvention" — @KarenBriscoe"]
[spp-tweet tweet=""To stay achieving at a high level requires operating at a high level, mentally." — @KarenBriscoe"]
[spp-tweet tweet=""The biggest thing that holds us back is ourselves." — @KarenBriscoe"]
Links Mentioned in Today's Episode:
— HBC
— Karen's book, Real Estate Success in 5 Minutes a Day
— Hal Elrod's book, The Miracle Morning
— Michael Gerber's book, The E-Myth Revisited
Access The Best Strategies, Tips & Advice!
Every week, we send an email sharing my best advice, tips and strategies related to Real Estate Investing. Each of these weekly emails contain relevant and actionable information that can help you no matter where you are in your investing journey.