BTM182: Direct Mail Domination for Raw Land with Justin Sliva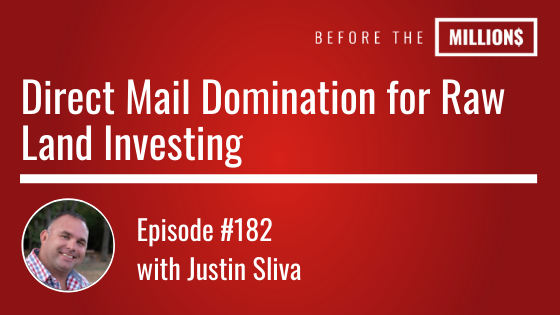 Direct mail, if done correctly, can be one of the most effective forms of marketing today – it can also be one of the most cost prohibitive without the proper guidance. Today's guest is a leading authority in the space and will show us exactly how he uses direct mail to buy raw land all across the country.
Raw land investing expert Justin Silva knows exactly where new investors struggle. As a long time land investor, he's been able to harness the enormous potential offered by land investments: incredible ROI, massive cash profits and sustainable passive income. On today's episode we'll learn how to effectively use direct mail to close more land deals for a massive ROI.
Key Points From This Episode:
How Justin got started in real estate and learned to dominate direct mail marketing
Why Justin will provide capital for anyone flipping land – "Plum Investment Group"
Why landsofamerica.com is one of the best tools land investors can use
How to create your own powerful direct mail campaign
What happened when just sent out 55,000 pieces of mail right before COVID-19
Links Mentioned in Today's Episode:
Recommended Book:
Rich Dad, Poor Dad by Robert Kiyosaki
Lifestyle Design App:
Notes (iPhone App)