BTM184: No and Low Money Down Home Loans with Matthew Gouge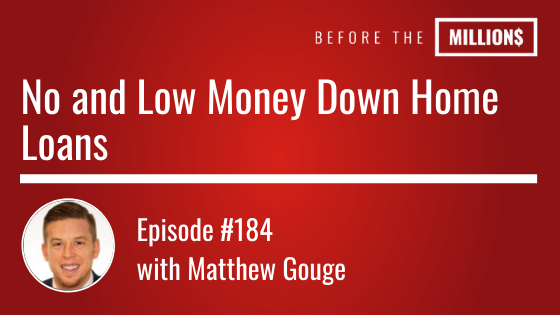 Does your mortgage broker invest in real estate? If not – It's possibly one of the best way to make sure that they have your best interest at hand as an investor. The only way to think like an investor is to be one.
Today's guest, Matthew Gouge aka Matt The Mortgage Guy negotiated over 250 loans last year alone for his clients – all while actively building up his real estate portfolio of single family homes and small multifamily residences. On today's show we discuss exactly how first time homebuyers as well as seasoned investors can take advantage of the popular no and low money down loan programs that are offered to most people. With interest rates at an all time low, what are you waiting for?
Key Points From This Episode:
The difference between the 4 no and low money down loans
The power of house hacking a 4-plex
Why the 2021 real estate growth is nothing like the 2006 real estate growth
Why Matt doesn't recommend a down payment assistance program
How to use a owner occupied mortgage to grow your investment portfolio
Links Mentioned in Today's Episode:
Recommended Book:
Shoe Dog by Phil Knight
Lifestyle Design App: