BTM205: List Stacking, Segmenting and Sifting for Motivated Seller Leads with Tyler Austin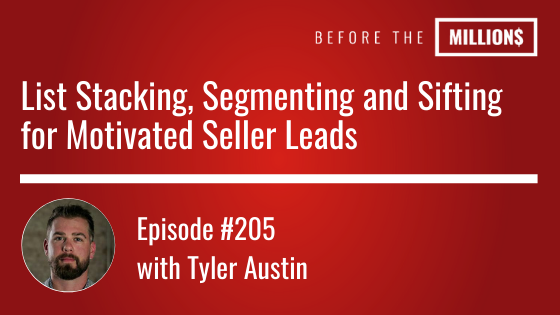 Growing tired of building bombs and traveling for the Air Force, Tyler Austin – today's guest, got started in real estate when he was 24 as a way to achieve personal and professional freedom. After a failed $10,000 marketing campaign for his first deal, he'd built a successful investing business that broke him out of debt over the next 2 years. Soon after Tyler founded REISift, a bootstrapped SaaS in Proptech helping real estate investors scale their sales and marketing.
Key Points From This Episode:
$10,000 "wasted" in first Direct Mail campaign
The $30,000 profit deal that made Tyler quit his job
The importance of List Stacking
How to properly run your CRM
How to systematically account for your motivated seller leads
How to get the most profit out of your list
www.beforethemillions.com/sift
Links Mentioned in Today's Episode:
Recommended Book:
The Go Giver by Bob Burg
Listen to this book for free with Audible!
Lifestyle Design App:
Google Notion