BTM 21: Why Cashflow Will Always Be King with Lane Kawaoka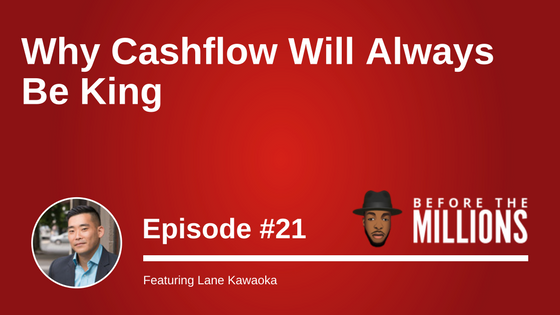 On today's episode, we have the pleasure of speaking to Lane Kawaoka. Lane is an engineer, an investor in 626 single family and multi-family units and a radio show host at simplepassivecashflow.com. Lane was born and is currently based out of Hawaii. He is what we could call, an "accidental landlord." After buying his first single-family home he realized that it was a cash sucking machine and he wanted to do something about it.
Lane shares this story and how it propelled his interest and career in real estate. He also shares his insights on the market in Hawaii and why he decided to move back to his homeland from Seattle. We also delve into the 1031 exchange, who should get into a 1031 exchange and some of the pitfalls that some of us might not realize about a 1031 exchange. But the true emphasis for today's episode is cashflow. Cash flow is king, and according to Lane, when you're starting out your number one goal should be cashflow. Lane motivates us to get started creating cash flow for ourselves to design the lifestyle and business we want to lead.
Key Points From This Episode:
What encouraged Lane to start investing in real estate.
The lesson Lane learnt from buying his first property.
How Lane helps clients get into their first investment.
Where to go if you want to invest but have no money.
The importance of cashflow and what it allows.
Why Lane shifted from single-family homes.
Why Lane decided to move back to Hawaii from Seattle.
Some of the pitfalls of a 1031 exchange.
Success habits Lane incorporates into his every day.
Balancing business with lifestyle.
Tweetables:
[spp-tweet tweet=""It comes down to cashflow. Cashflow gives you the freedom to do what you want." — Lane Kawaoka"]
[spp-tweet tweet=""That's the problem with Wall Street. It's rough and it's a rollercoaster." — Lane Kawaoka"]
[spp-tweet tweet=""You always take what anybody tells you with a grain of salt." — Lane Kawaoka "]
[spp-tweet tweet=""You need to figure out what makes you happy, what your goals are and create your business and lifestyle around that." — Lane Kawaoka"]
[spp-tweet tweet=""70% of your progression is doing it, being in the field. 20% is from your peers. 10% is books." — Lane Kawaoka"]
Links Mentioned in Today's Episode:
Simple Passive Cashflow – http://simplepassivecashflow.com/
House Hack Secrets – https://beforethemillions.com/househacksecrets
Access The Best Strategies, Tips & Advice!
Every week, we send an email sharing my best advice, tips and strategies related to Real Estate Investing. Each of these weekly emails contain relevant and actionable information that can help you no matter where you are in your investing journey.