BTM 27: Bootstrapping Legal Fees and Access to Capital with Amy Wan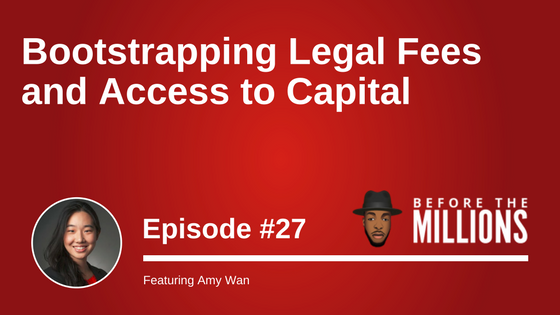 On today's show we welcome Amy Wan, an attorney who specializes in real estate fund syndication for entrepreneurs. Amy is based in Los Angeles, where she runs her company Bootstrap Legal. The underlying goal of the company is to democratize access to legal council by decreasing the amount of billable hours for drafting legal documents.
Amy had not intended on going into law and, in fact, she was studying biology towards being a doctor or pharmacist. After going through the motions of her degree she eventually landed in USC Law School studying human rights law and later international trade law.
Amy then moved to California with her husband and found a job at Patch of Land. It was here that she became interested in the idea of legal access democratization, something she would draw from with her own company.
Amy's story is both one that can inspire an individual pursuit and is also full of great illuminations on the possibilities for the future of legal work. Tune in to hear all about it!
Key Points From This Episode:
Why trading your time for your money is not for everyone.
The legal profession's opposition to efficiency.
Different types of fund syndication.
Investment crowdfunding as an online syndication and its returns.
What exactly is an accredited investor and their role.
Bootstrap legal and the democratization of legal aid.
Just how inefficient the standard legal turnaround is on drafted documents.
How Amy's company makes the system work more efficiently.
The money and time that this can save a client.
Challenges that Amy faced in starting her own business.
Amy's suggested timeline for prospective capital raising.
Property value, projected goals and likely capital amounts.
And much more!
Tweetables:
[spp-tweet tweet=""What is the one thing that crosses borders, that everyone respects? And that's money" — @amyywan"]
[spp-tweet tweet=""The legal profession is not incentivized to be more efficient" — @amyywan"]
[spp-tweet tweet=""We don't want to bill by the hour, we want to do things efficiently using technology" — @amyywan"]
[spp-tweet tweet=""I think people are going to have think a lot more creatively in the future". — @amyywan"]
Links Mentioned in Today's Episode:
Amy Wan — http://www.amywanlaw.com/
Patch of Land — https://patchofland.com/
Bootstrap Legal — https://bootstraplegal.com/
Turbo Tax — https://turbotax.intuit.com/
LegalZoom — https://www.legalzoom.com
Kickstarter — https://www.kickstarter.com/
Indiegogo — https://www.indiegogo.com/en
GoFundMe — https://www.gofundme.com/
Fundrise — https://fundrise.com/
Legal Hackers — https://legalhackers.org/2014/08/welcome-la/
Cam Kashani — http://camkashani.com/
Four Hour Work Week — https://fourhourworkweek.com/
Calendly — https://calendly.com/
Access The Best Strategies, Tips & Advice!
Every week, we send an email sharing my best advice, tips and strategies related to Real Estate Investing. Each of these weekly emails contain relevant and actionable information that can help you no matter where you are in your investing journey.