BTM 31: 6 Reasons Why You Should Purchase Your 1st Investment Property in 2018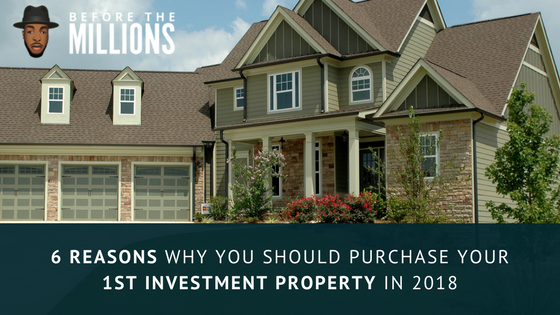 For those of you who feel unfulfilled by your job, wish you had more time to pursue your interests, and had more financial freedom, investing in real estate can be your ticket to that lifestyle…
On this episode of Before the Millions Podcast, I've elaborated on the Top 6 Reasons Why You Should Purchase Your First Property in 2018. I know that a lot of you have questions and concerns about your investment strategy and if Real Estate is as good as we claim – In this episode I will cover it all in detail!
Top 6 Reasons:
Power of Leverage
Tenants are Footing the Bill
Monthly Excessive Cashflow
Appreciation and Forced Appreciation
The Business of Investment Property
Everyone Will Always Need Somewhere to Live
Links
Access The Best Strategies, Tips & Advice!
Every week, we send an email sharing my best advice, tips and strategies related to Real Estate Investing. Each of these weekly emails contain relevant and actionable information that can help you no matter where you are in your investing journey.