BTM 38: After the Inspection Comes the Offer with Nathan Tabor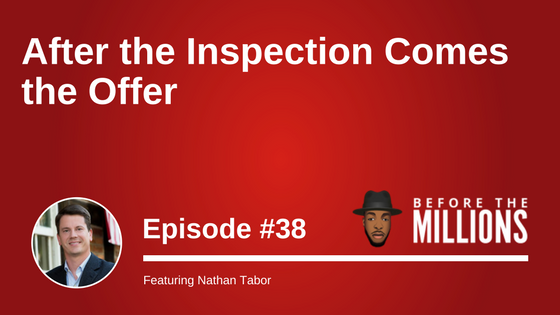 On today's show we welcome Nathan Tabor, who has built a life helping others and improving lives. Throughout his own life and experiences, Nathan has acquired an incredible ability to solve problems, develop game plans, and create real and lasting results in both his personal and professional life.
He has successfully founded and operated more than two dozen businesses since 1999, grossing over $150 million in sales. His experience spans the areas of commercial real estate acquisition and redevelopment, automobile sales, direct product sales, web-based marketing, and strategic partnership facilitation.
He's had amazing successes and epic failures, and learned more from his failures than his successes. After years of struggling to keep all of the balls in the air, he learned that there are laws and processes that, when implemented, will deliver the desired results.
More specific to real estate investing, he took the laws and processes that he picked up along to way to apply them to the due diligence phase of an investment purchase. Join us on today's episode as he not only walks us along his before the millions path but highlights exactly what we need to know when performing due diligence and inspecting an investment property.
Links mentioned in the show:
The Bible (Link takes you to Daray's personal recommendation of an Audio Bible)
Access The Best Strategies, Tips & Advice!
Every week, we send an email sharing my best advice, tips and strategies related to Real Estate Investing. Each of these weekly emails contain relevant and actionable information that can help you no matter where you are in your investing journey.