BTM 47: 2018 Real Estate Crash? How to Survive It with Mark Walters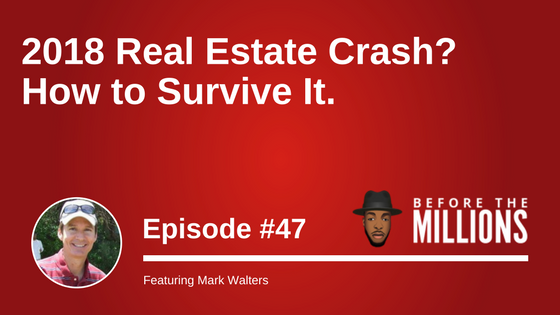 We've been going strong for a good 10 years now. We, as in the general real estate market. We've been on cruise control and loving it. Can it get any better? Or is our time up?
Every 10 years there seems to be some major event that disrupts our market. Today's guest, Mark Walters, breakdowns down our current disruptions and if we should be sitting on the sidelines, cash in hand, waiting for the crash.
In either event, one of the best ways to approach the situation is buying great deals. The way you buy great deals is to find motivated sellers. We cover this extensively on today's show.
Mark, however, is a 3rd generation real estate investor who got his start as a broker. After the savings and loan crisis of the late 1980's and early 1990's, in 1992 him and his family packed up all their California belongings – moved to Arizona and began buying properties with the intention of riding the market up.
Guess what? The old crystal ball must have been working because over the following years Phoenix became one of the top real estate investing areas in the country. Today's crystal ball may bring doom and gloom to some but opportunity to others.
Find out how on today's show….
Links mentioned in the show:
How to Win Friends and Influence People
Access The Best Strategies, Tips & Advice!
Every week, we send an email sharing my best advice, tips and strategies related to Real Estate Investing. Each of these weekly emails contain relevant and actionable information that can help you no matter where you are in your investing journey.