BTM 48: 90 Days to 5K Passive Income a Month and Beyond with Edna Keep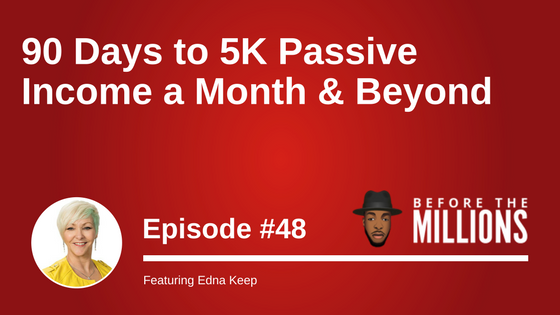 Have you heard of the Rule of 97? In 1897, 97% of Americans were employers. By 1997, 97% of Americans were employees. A new time is upon us and another major shift is coming. As we continue to leverage the power of the internet and technology, it's easier than ever to become a location independent entrepreneur and investor. We discuss this immensely in this weeks' Tip of the Week.
Even more profound, on todays show, today's guest Edna Keep and I are going to show you the path to 5k in 90 Days.
Edna Keep's journey from single mom at age 16 – living in subsidized housing
with a daughter in subsidized daycare – to multi-millionaire Real Estate
Entrepreneur and Coach inspires others. Her major operations are long-term
buy-and-hold rentals apartment buildings. Her claim to fame is a $60 Million
real estate portfolio built with "Other People's Money."
She is the author of Multiple Ways To Wealth: Creating Your Prosperous Lifestyle and real estate investment teacher, has a deep understanding of what investors want in a deal. As a former financial advisor, Edna helps connect investors with everyday people who want to create true passive income for the long term.
We share a passion for helping individuals hit their first milestone of 5k in passive income and we breakdown exact how you can achieve this in 3 easy steps:
Build a "Power" Team around you to do the heavy lifting (most important – you need a mentor to be apart of that team).
Shift your MINDSET -> You are the prize!
GO BIG (we'll define this in the episode)
Links mentioned in the show:
Why "A" Students Work for "C" Students and Why "B" Students Work for the Government
Access The Best Strategies, Tips & Advice!
Every week, we send an email sharing my best advice, tips and strategies related to Real Estate Investing. Each of these weekly emails contain relevant and actionable information that can help you no matter where you are in your investing journey.