BTM 52: Turnkey Rentals and Done For You Investing with Marco Santarelli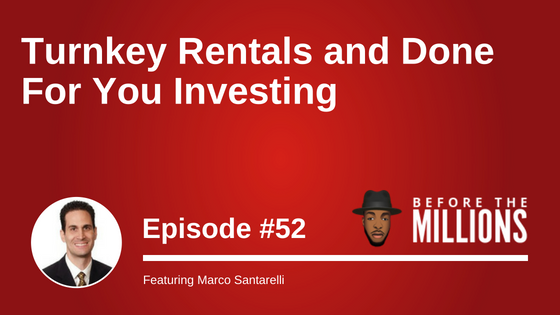 Marco Santarelli purchased his first real estate investment at the age of 18. He successfully handled the entire rehab and property management of his first property without ever taking a course or reading a book on the subject. Marco is an investor, author, and founder of Norada Real Estate Investments — a national real estate investment firm offering turnkey investment property in growth markets nationwide.
On today's show, we discussed how Marco got his start in real estate and what inspired him to start his company, Norada Real Estate Investments. You'll also learn the importance of educating yourself on real estate, asking the right questions and taking action. Marco talks about why real estate is a great place to create and store long-term wealth. In the episode, you'll learn what turnkey investing is and the pros and cons of active vs. passive real estate investing.
Key Points From This Episode:
Why you should never pursue an investment only for the money
Importance of investing in assets that you understand
The 5 key benefits of using real estate as an investment vehicle
What first time investors need to know about turnkey investments
Lessons learned about building a real estate portfolio of 84 properties
The difference between being an active vs. passive real estate investor
If you are looking for a group of individuals that look after their own and help real estate investors far and wide, then I encourage you to join our Facebook group where like minded individuals like yourself are connecting, exchanging ideas and doing deals everyday.
Join Our Free Facebook Group Now
Links Mentioned in Today's Episode
Marco Websites: Norada Real Estate & Passive Real Estate Investing
Favorite Books: Think & Grow Rich & Rich Dad Poor Dad
Favorite App: Audible
Access The Best Strategies, Tips & Advice!
Every week, we send an email sharing my best advice, tips and strategies related to Real Estate Investing. Each of these weekly emails contain relevant and actionable information that can help you no matter where you are in your investing journey.