BTM 55: How Friends and Family Can Fund Your Next Real Estate Deal with Jay Conner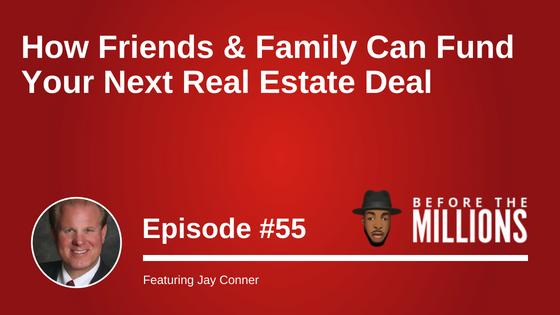 Jay Conner has been buying and selling houses for 14 years and has been involved in over 52 Million dollars in transactions. In the past 7 years, Jay has completely automated his 7-Figure Income Business to where he works in his business less than 10 hours per week. He is a leading expert on Private Lending, once raising over $2M in less than 90 Days in private money while cut off from the banks. He is also a contributing author to the best-selling book Real Estate: Getting Deals Done In The New Economy.
On today's episode, we talk with Jay about his journey into private lending for real estate investors. You'll learn what exactly private lending is and how you can leverage this method in your own real estate investment deals. Jay talks about his transition from investing in mobile homes to single family homes. You'll learn how Jay raised $2,150,000 in less than 90 Days with his simple system anyone can duplicate. Lastly, Jay shares the advantages of private money vs. other types of lending for real estate investors.
The advantages of using private money as a real estate investor:
You make the rules (you set the interest rate, terms, etc.)
There's no limit to the number of private lenders you can do business with
Not regulated by the commissioner of banks (not an institution, only individuals)
Get multiple checks on every deal that you do
Your credit score has nothing to do with how much private money you can get
No need to worry about your verification of income (you can be broke and jobless and still get private money)
Easier to do business with private lenders
Key Points From This Episode:
How Jay was introduced to the concept of private money
What is private lending and how can you use it for your real estate deals
The different ways you can attract private lenders
The "magic private money question" every real estate investor must know
How to better position yourself to raise more money
The advantages of using private money vs. other lending types
How to buy properties using creative financing for your deals without going through the bank
Links Mentioned in Today's Episode
Jay's Website: Jay Conner
Favorite Book: University of Success
Favorite Lifestyle Design App: Simple Crew
Access The Best Strategies, Tips & Advice!
Every week, we send an email sharing my best advice, tips and strategies related to Real Estate Investing. Each of these weekly emails contain relevant and actionable information that can help you no matter where you are in your investing journey.