BTM 57: Social Media Marketing and Brand Building for Real Estate Investors with Lyndsay Phillips & Tabitha Carro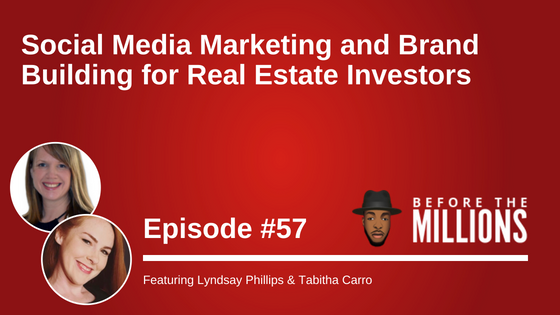 Lyndsay Phillips and Tabitha Carro are two amazing entrepreneurs teaching entrepreneurs how to leverage online platforms to take their business to the next level. Lyndsay Phillips is CEO and Captain of Smooth Sailing Business Growth. Lyndsay helps entrepreneurs attract & acquire more customers faster through powerful content marketing. Lyndsay and her team helps you plan, create, implement and maintain systems, handle all elements of content marketing – from blogs, podcasting, video marketing, social media, emails, sales funnels, lead magnets, online events and more.
Tabitha Carro is the founder of Smartphone Marketing School. Tabitha is an elementary school teacher by day and a certified #couchhustler by night. She has created and sold thousands of educational resources for teachers and promoted them almost entirely with her iPhone. Tabitha teaches you how to take professional photos and videos and market your product all by using the pocket device you already have.
On today's episode, we talk with these two amazing women about their journey into entrepreneurship. You'll learn how to use social platforms to grow and expand your real estate business. Lyndsay shares her insight on how her real estate clients are able to create a brand around their expertise on social media. Lyndsay also talks about the importance of building trust and relationships using content marketing (videos, podcasts, blogs, etc.).
Tabitha shares all her favorite tools and apps you can use to create amazing content to with your audience. In this episode, you'll understand the importance of having a brand presence online as an investor. Lastly, Tabitha and Lyndsay breakdown the steps you can take today to start building your own online brand.
Key Points From This Episode:
How Lyndsay and Tabitha were able to quit their jobs and achieve their goals of financial freedom
The importance of shifting your mindset and investing in your own self education
How Lyndsay turned her biggest obstacle into her greatest success
1 life-changing habit Lyndsay implemented that took her business to the next level
Why is it important for investors to have a brand presence online
Advice for investors who may overlook investing their time and energy into social media/online marketing
Tabitha talks about how to market your real estate business using your smartphone
Tabitha shares how you can use the stories feature on social media to show people insights on different things that you're working on in your real estate business
Benefits of using online tools and apps to grow your network as a real estate investor
Links Mentioned in Today's Episode
Must Read Book: The Year of YES
Lyndsay's Website: Smooth Business Growth
Lyndsay's Favorite Book: 12 Week Year
Lyndsay's Favorite Lifestyle Design App:
Trello keeps track of everything, from the big picture to the minute details.
Basecamp puts everything you need to get work done in one place.
Canva allows you to create beautiful designs with your team.
Tabitha Website: Tabitha Carro
Tabitha's Favorite Book: 4 Hour Work Week
Tabitha Favorite Lifestyle Design App: Trello
Tabitha Recommended Apps:
Adobe Spark is a free online and mobile graphic design app
Wordswagg magically turns your words into beautiful photo text designs
Made With Over allows you to add beautiful text & artwork to photos.
Film Mic Pro has everything you need to create your own Hollywood movie.
Quik Go Pro is the easiest way to create beautiful videos.
Hype Type Animated Text Videos is a third party app that lets you add animated captions to your pictures and videos for Instagram Stories.
Ripl allows you to create eye-catching animated videos that help your business stand out on social media and improve customer awareness.
Enlight Videoleap allows you to edit clips with this powerful, creative video editor – whenever, wherever.
Facebook Live is a live video streaming is a fun, engaging way to connect with your followers and grow your audience.
Access The Best Strategies, Tips & Advice!
Every week, we send an email sharing my best advice, tips and strategies related to Real Estate Investing. Each of these weekly emails contain relevant and actionable information that can help you no matter where you are in your investing journey.