BTM 63: Triplex Case-Study A to Z with Sunny Burns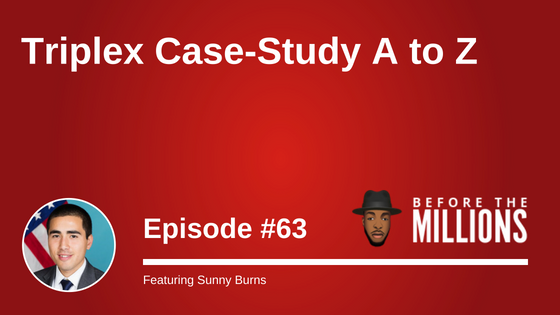 On today's episode we catch up with our first guest on The Before The Millions Podcast, Sunny Burns. It's been a year and Sunny's life has drastically changed. Sunny brought this amazing triplex and still traveling the world.
On episode 1 of this podcast, Daray and Sunny got to know each other and we decided to bring Sunny back for an update on what's going on in Sunny's life. During this episode, Sunny shares great insight for real estate investors and entrepreneurs on what steps he took to purchase, rehab and close his triplex rental property.
Since we last spoke with Sunny he has been focused on his engineering career in the Department of Defense and just recently got a promotion from making 83K to six figures salary. Sunny closed on a triplex and own two properties (gross rents on the two properties are $100,000/year). Now he has a six figure salary and six figure passive gross rental income for the two properties.
We will breakdown exactly how Sunny brought his second property (the triplex). You'll learn how Sunny found the triplex deal, finance the deal, how he rehabbed the property and more. Lastly, Sunny shares with us all the lessons learned during the buying and closing process of the triplex deal.
Key Points From This Episode:
We catch up with Sunny 1 year later after his first interview on Before The Millions podcast
How Sunny now has a six-figure salary and passive $100K/ year cash flow rental income
Breakdown Sunny's deal of buying his first triplex (lessons learned, tips and tricks, etc.)
How his rental income today in 2018 can replace his entire salary and retire his family
Step-by-step blog post Sunny wrote about his experience buying the triplex on his website Faminvestor.com
How to prepare for the pre-approval process when buying rental properties
Why community banks might work in your favor as a first-time investor vs. national banks when financing your real estate deals
How Sunny found properties to analyze once he was pre-approved investor
How to determine if a property meets your criteria as a investor
Importance of knowing that it cost nothing to put in a offer on a property
Questions you should ask before you make an offer on a deal
How hiring a lawyer can help you ease through the paperwork and terms when closing a deal
Various options for getting a down payment on a property for a first-time investor
Breakdown of hiring an property inspector
Sunny's advice on rehabbing a property yourself vs. hiring a contractor to get the job done
The process of closing the deal and lessons learned throughout the entire buying process
Links Mentioned in Today's Episode
Before The Millions Episode 1 https://beforethemillions.com/episode1/
Sunny's Website: http://www.famvestor.com/
Sunny's Blog Post: http://www.famvestor.com/triplexcasestudy/
Recommended Websites:
Cozy makes renting easier for landlords and renters everywhere
Realtor: Search real estate property records, houses, condos, land and more
RentoMeter: Paying too much for rent or charging too little? Get rental comps and find apartments.
Yelp: User Reviews and Recommendations of Best Restaurants, Shopping, Nightlife, Food, Entertainment, Things to Do, Services and More
Craigslist: provides local classifieds and forums for jobs, housing, for sale, services, local community, and events.
Sunny's Favorite Books: The Way of Kings
Sunny's Favorite Lifestyle Design App: Scanbot is the most advanced PDF scanner app for iPhone, iPad and Android. Create premium quality scans and upload them to your favorite cloud.
Access The Best Strategies, Tips & Advice !
Every week, we send an email sharing my best advice, tips and strategies related to Real Estate Investing. Each of these weekly emails contain relevant and actionable information that can help you no matter where you are in your investing journey.