BTM 66: Successfully Unemployed: Lifestyle Design Through Rental Properties with Dustin Heiner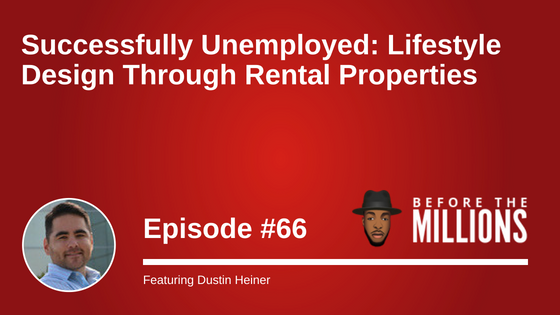 Dustin Heiner is a real estate investor with 24 single family properties and blogger from California. Dustin is the founder and host of Master Passive Income, a Blog and Podcast about investing in real estate rental properties. In 2004, Dustin realized he would never be wealthy working for someone else, so he needed to change something.
He decided to work hard toward quitting his job and being his own boss. After reading Rich Dad, Poor Dad Dustin knew he needed to become an investor. So he started investing in real estate and start earning cash flow in 2006. (Yep, just before the crash in 2009) He took a weekend course from a real estate guru that cost $1,000 and that started him down the path of rental properties. From that $1,000, Dustin has grown his investment income to $8,500 per month. It only took him 8 years to do it. In 2016, Dustin quit his job working for the local government. He will literally NEVER have to work for someone else ever again.
On today's episode, we talk to Dustin about all things passive income. Dustin shares with us several stories about his childhood growing up with a family who was involved with real estate and building homes. He developed a passion for homes and entrepreneurship. Real estate was the one thing that really worked for Dustin after attempting several other business opportunities.
Within 6 years of investing, Dustin had all of his income replaced by his income producing properties and could quit his day job. You'll learn the importance of hiring a mentor to help you along the investing journey to avoid common pitfalls and mistakes. Lastly, Dustin shares with us his suggestions for first-time investors who would like to get started with little to no money down on a rental properties.
Key Points From This Episode:
The story on how Dustin started his entrepreneurial path as a teen delivering newspapers
Lessons learned from Dustin's retail business that he applied directly to his real estate investing business
Importance of hiring and finding the right people when investing in rental properties
How Dustin utilizes online resources (monthly payments, maintenance requests, property management, etc.) to manage the real estate business from around the world
Why hiring the right mentor can help you avoid critical mistakes and teach you ways to save time and money while working towards financial freedom
What separates the people who find success with a mentor when investing vs. those who do not
The 3 key traits you need to take advantage of real estate opportunities
How getting rid of the "business" helped Dustin focused on the things that are important and took his real estate business to the next level
Why sticking to one main objective until you master it or its running itself is key to success
What Dustin's lifestyle design looks like today (family time, working on his podcast, traveling, and more)
The concept of "buying with no money down" and lessons learned from not having the right property manager when starting to buy rental properties
Suggestions for first-time investors (using a FHA loan, buying a duplex or single family home)
Links Mentioned in Today's Episode
Dustin's Website: http://www.masterpassiveincome.com/
Dustin's Podcast: http://www.masterpassiveincome.com/podcast/
Dustin's Favorite Book: Richest Man In Babylon
Dustin's Favorite Lifestyle Design App:
Evernote is the app that keeps your notes organized. Memos are synced so they're accessible anywhere, and searchable so you always find what you need. https://evernote.com/
Google Docs brings your documents to life with smart editing and styling tools to help you easily format text and paragraphs. https://www.google.com/docs/about/
Access The Best Strategies, Tips & Advice !
Every week, we send an email sharing my best advice, tips and strategies related to Real Estate Investing. Each of these weekly emails contain relevant and actionable information that can help you no matter where you are in your investing journey.