BTM 07: How $12 Can Create a Passive 6-Figure Location Independent Business with Earnest Epps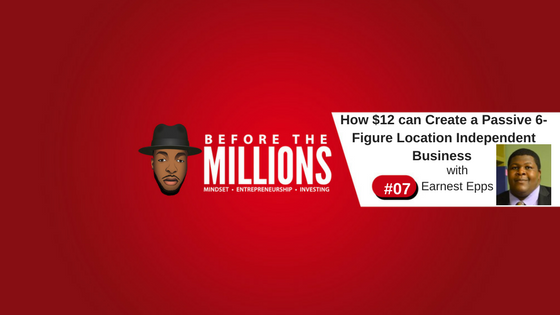 Today we are speaking to e-commerce coach Earnest Epps. Earnest is an online entrepreneur and is really killing it in the game right now with his 6-figure businesses. He is the CEO of Ur Sales Force with almost 10 years of marketing and sales experience, Earnest has been able to take both offline and online marketing strategies to combine them into a marketing powerhouse. He is a professional with a unique combination of digital marketing, sales management, project management, traditional marketing, business and technical skills.
Earnest possesses the expertise to combine these skill sets into a full program management life cycle for a cost effective digital marketing solution, sales force and/or marketing strategy.
In addition, continuing to grow in leadership and knowledge, excel in innovative technology applications, as well as develop world-class solutions to real world challenges. In today's episode Earnest shares with us on his life, how he transitioned from a corporate hustler to an online mogul and how his business is continuously growing.
Key Points From This Episode:
Earnest shares with us on how he got to where he is today, starting with 19 year old Earnest.
Hear how Earnest went from door-to-door sales to being a Marketing director.
Find out what made Earnest pursue his online business journey.
Learn why Earnest chose to go into online business in particular.
Discover how network marketing benefited Earnest in the long run.
Understand how success principles can be used in multiple different fields.
Hear what Earnest's goal was at the time and how he went about achieving his goal.
Find out what drop shipping is and what it does.
Discover how not having to trade his time for money got Earnest excited.
Understand how Earnest's investment of $12.50 has grown to a company set for 7 figures.
Hear how Earnest was able to do all this so fast, while having a full time job.
Find out how Earnest found ways to add value to his customers.
Learn what a USP (Unique Selling Proposition) is and how to benefit.
Hear how to grow your reach with paid advertising through using different avenues.
Earnest tells us that a good standard conversion rate online is 1%.
Find out where to get started if you're looking to sell products online.
Discover what you need to get an online business started.
Hear how to distinguish whether or not to start advertising on Google PLA's or Facebook Ads.
Find out how Earnest overcame struggles and difficulties to get where he is today.
Learn what happened with Earnest's mind shift and how his goals changed,
Hear about some of Earnest's travels.
Earnest shares with us about how he got fired from his corporate job.
Tweetables:
[spp-tweet tweet=""If I can continue to make money while I'm sleeping, I wouldn't have to work until I die." — @EarnestEpps"]
[spp-tweet tweet=""You don't count the hours; you make the hours count." — @EarnestEpps "]
[spp-tweet tweet=""You can't let what you can't do stop you from what you can do." — @EarnestEpps"]
[spp-tweet tweet=""Before the millions it has to be the mindset." — @EarnestEpps"]
Links Mentioned in Today's Episode:
Earnest Epps — http://www.earnestepps.com/
Earnest Epps on Twitter — https://twitter.com/EarnestEpps
Earnest Ur Sales Force — http://www.ursalesforce.com/
Robert Kiyosaki's book, The Guide to Investing
Drop Ship Lifestyle — www.dropshiplifestyle.com
Shopify — www.shopify.com
Google Analytics — analytics.google.com
Adwords — https://adwords.google.com/home/
Access The Best Strategies, Tips & Advice!
Every week, we send an email sharing my best advice, tips and strategies related to Real Estate Investing. Each of these weekly emails contain relevant and actionable information that can help you no matter where you are in your investing journey.