BTM 72: Create Your Dream Business to Become a High Income Earner with Captain Jim Palmer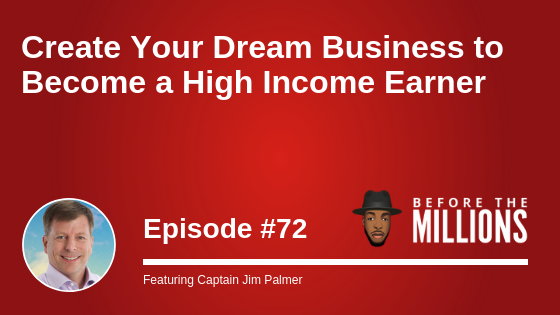 Jim Palmer is a marketing and business building expert and in-demand coach. He is the founder of the Dream Business Academy and Dream Business Coaching and Mastermind Program. He is the host of Dream Business Coach TV, the hit weekly Web TV show watched by thousands of entrepreneurs and small business owners, and he is also the host of Dream Business Radio, a weekly podcast based on Jim's unique brand of Smart Marketing and Business Building Strategies.
Jim is best known internationally as 'The Dream Business Coach' and creator of No Hassle Newsletters, the ultimate 'done-for-you' newsletter marketing program used by hundreds of clients in nine countries. Jim Palmer speaks and gives interviews on such topics as entrepreneurial success, newsletter marketing, client retention, how to build a profitable business and how to create your own Dream Business. Jim is a cancer survivor, has been married for over thirty-five years, has four grown children and three grandchildren. Recently, Jim and his wife Stephanie JUST SAID YES to their dream of living on a boat. Join their adventure, which is chronicled on Our Floating Home.
On today's episode, we talk with Captain Jim about his journey as an entrepreneur and what steps he had to take before the millions to grow a successful brand and company. You'll learn how you can create a "dream business" that provides financial and time freedom which enables you to live life on your terms. We also talk to Jim about how having the right mindset separates the high income earners vs. people who just get by in life. Jim shares his experience in a mastermind group and the powerful benefits it can have on your life today. Lastly, we wrap up the episode with Jim sharing the importance of being able to control your environment and how failure set Jim up for later success in business and life.
Key Points From This Episode:
How you can create a dream business that provides financial and time freedom
Understanding that being the best at what you do is not enough (Your mindset determines everything)
Jim's most embarrassing moment to date (2 years after starting his coaching program)
How has failure later set Jim up for later success
What "playing not to lose" and ROI madness means and how to avoid it
Difference between rushing the process vs. enjoying the journey
Jim's best investment in himself was joining a mastermind groups and hiring mentorship
The #1 turning point that most entrepreneurs face before taking their business to the next level
What is a mastermind group is and why it is such a powerful resource for investors and entrepreneurs
What separates high income earners vs. people who just get by
The habits and personality traits of high income earners and how you can start to adopt these traits today
Links Mentioned in Today's Episode
Jim's Website: http://www.getjimpalmer.com/ http://ourfloatinghome.com/
Jim's Favorite Book: No B.S. Wealth Attraction in the New Economy https://amzn.to/2x5bgBA
Download any 2 audio books for free when you try audible for 30 days: https://beforethemillions.com/book
Access The Best Strategies, Tips & Advice !
Every week, we send an email sharing my best advice, tips and strategies related to Real Estate Investing. Each of these weekly emails contain relevant and actionable information that can help you no matter where you are in your investing journey.