BTM 75: The Closest Thing to Guaranteed Money: Pros & Cons with Ryan G. Wright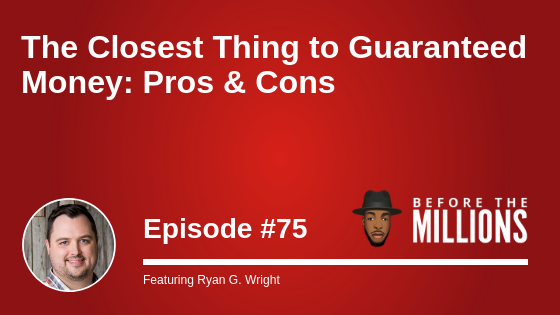 Almost 10 years ago, Ryan G. Wright started investing in fix and flip properties. He soon saw that it was difficult to get funding quickly on these properties, much less from reputable and reliable sources. The solution was Do Hard Money, a private hard money company that offers short-term funding for real estate investors. Coming from a background of real estate investing, he understood the needs investors have. He wanted to provide a way for others to grow their real estate investing business by offering short term loans with no money down and no monthly payments. Ryan has been a featured speaker for Bank of America, CitiMortgage, Wells Fargo, Bank of America, Inside Mortgage Finance and the ReCaptivate Conference for real estate professionals.
On today's episode, we talk to Ryan about the secrets to success (show up, show up on time and show up prepared) in getting started in investing in real estate. Ryan talks with us about the concept of using private lending and hard money rental loans to finance your real estate investment deals. You'll also learn the pros and cons of investing in single family housing vs. duplex/triplex and multifamily deals. Lastly, Ryan shares with us how lenders can sometimes construct demand based upon how much capital they have available.
Key Points From This Episode:
How investing in single family can be a better option than multi-units (tenants, turnover, cash flow, etc.)
Why your goals shouldn't never be tied to your self-worth
The 2 ways you can use hard money lender to buy rentals (Low cash to close or hard money rental loan)
What is a hard money rental loan (what is the process, requirements, terms, conditions, etc.)
Links Mentioned in Today's Episode
Ryan's Website: https://www.dohardmoney.com/
Ryan's Favorite Books: Atlas Shrugged by Ayn Rand https://amzn.to/2OtPqmb
Ryan's Favorite Lifestyle Design App: Audible is the largest selection of audiobooks and original audio performances anywhere! https://www.audible.com/
Freebie: Download any 2 audio books for free when you try audible for 30 days: https://beforethemillions.com/book
Access The Best Strategies, Tips & Advice !
Every week, we send an email sharing my best advice, tips and strategies related to Real Estate Investing. Each of these weekly emails contain relevant and actionable information that can help you no matter where you are in your investing journey.