BTM 78: How To Scale Without Losing Your Mind with Tim Bratz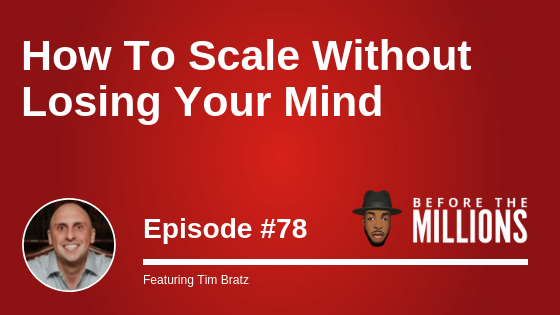 Tim Bratz is the CEO and founder of CLE Turnkey Real Estate, a real estate investment company that acquires and transforms distressed commercial and apartment buildings into high-performance investment assets. Tim began his real estate career in 2007 as a commercial broker in the competitive NYC real estate market, where he saw the true potential of real estate to transform lives. Working in real estate, Tim has learned how to build a passive business and create a residual income that allows him to live the lifestyle of his choice.
On today's episode, we talk to Tim Bratz about how you can build a business around your ideal lifestyle. Tim breakdowns how he went from being a real estate broker to owning a 300+ real estate portfolio in Ohio, SC, GA, FL, and TX. You'll learn why you should focus your energy on the faithful vs. fearful "what-ifs" when investing in real estate. Lastly, we discuss how you can build up your track record as an investor quickly and the 2 things you need when raising private capital for real estate investments.
Key Points From This Episode:
The story of how Tim used a $15K credit card to buy his first house at 23 years old
Tim's journey from flipping houses to owning a $90 Million real estate portfolio by the age of 33
How you can leverage real estate to develop passive & residual income that allows you to do what you want, when you want, wherever you want
Why you don't need 100% ownership on big deals and how to leverage other people's time & money to scale your investing efforts
Links Mentioned in Today's Episode
Tim's Website: https://cleturnkey.com/
About Tim Bratz: https://invite.commercialempire.com/millions
Tim's Favorite Book: 12 Pillars by Jim Rohn https://amzn.to/2R7OqBP
Tim's Favorite Lifestyle App: VRBO is the easiest way to plan, search, and book your next trip. https://www.vrbo.com/mobile
Freebie: Download any 2 audio books for free when you try audible for 30 days: https://beforethemillions.com/book
Access The Best Strategies, Tips & Advice !
Every week, we send an email sharing my best advice, tips and strategies related to Real Estate Investing. Each of these weekly emails contain relevant and actionable information that can help you no matter where you are in your investing journey.