BTM 80: My Backstory and Before The Millions Journey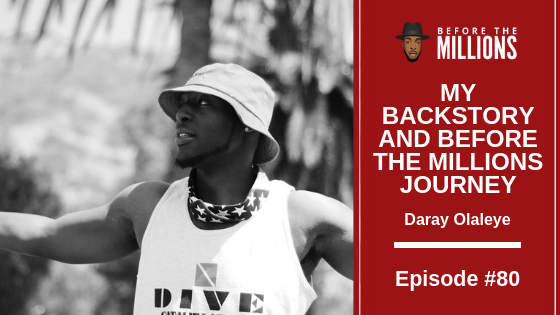 On today's episode, you'll hear the amazing Before The Millions story of Daray Olaleye as he is interviewed by Chris Prefontaine. Daray talks about what sparked his initial interest in real estate and how his discontentment at his 9-5 job pushed him to find alternative options to achieve true financial freedom. You'll learn the first steps you need to take to purchase your first real estate investment. Lastly, Daray talks about how he leveraged the power of coaching and mentorship to fast track his success in business and life.
Key Points From This Episode:
The financial mindset of most employees vs. entrepreneurs (what can I build vs. how much can I save)
How to leverage real estate investing from your 9-5 job and create passive cash flow income
Why you don't need you get a real estate license to become a real estate investor (what to do instead)
Lessons Daray learned from raising $500K for a $42 million-dollar deal in Dallas while being unemployed
Links Mentioned in Today's Episode
Recommended Books:
Rich Dad, Poor Dad https://amzn.to/2RLaGC7
Living With A Seal https://amzn.to/2zu3HWk
Freebie: Download any 2 audio books for free when you try audible for 30 days: https://beforethemillions.com/book
Access The Best Strategies, Tips & Advice !
Every week, we send an email sharing my best advice, tips and strategies related to Real Estate Investing. Each of these weekly emails contain relevant and actionable information that can help you no matter where you are in your investing journey.