BTM 96: Lifestyle Notary Masterclass – Another Path To Real Estate Wealth with Andre Hatchett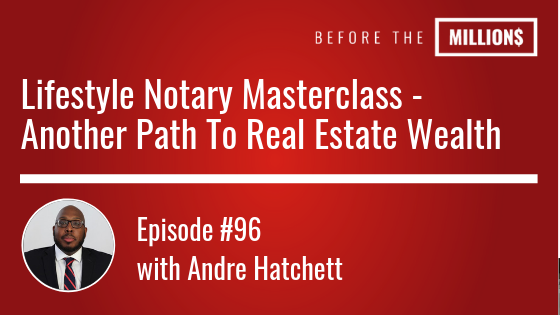 Andre is a nationally acclaimed entrepreneur and philanthropist.
Judy Lichtenberger quit her full time job in record timing.
They both control their time, schedule and paycheck..
What else do both of today's guest have in common?
For one, they can get paid $75-$200 per appointment (sometimes more)
They can take a whole week off or work 7 days straight
They can get paid to build key relationships in Real Estate
On today's episode, we've stumbled upon a niche in real estate that help you make some extra cash on the side. It takes practically no start-up cost (less than $500) and a few weeks max to be up and running.
Key Points From This Episode:
How to become a Notary Public
What a Loan Signing Agent is and how this differs from a Notary
Why Loan Signing Agents get paid $75-$200 per appointment
Out of the box business for less than five hundred dollars
Why Andre started a loan signing service to get you signings
How Andre uses his prior knowledge in business to build his next
Become a Notary/Loan Signing Agent Today —–>
<—— Become a Notary/Loan Signing Agent Today
Links Mentioned in Today's Episode:
Before the Millions Book:
The Wealth Choice by Dennis Kimbro
Listen to this books for free!
Lifestyle Design App: Fiverr
Email Marketing Software: ConvertKit
Before The Millions Workshop: Create and Grow Your Real Estate Portfolio
Before The Millions Mastermind: Expand Your Real Estate Related Business and Life