BTM 35: 6-Figure House Flipper Explains Do's and Don'ts Before You Buy with Matt Aitchison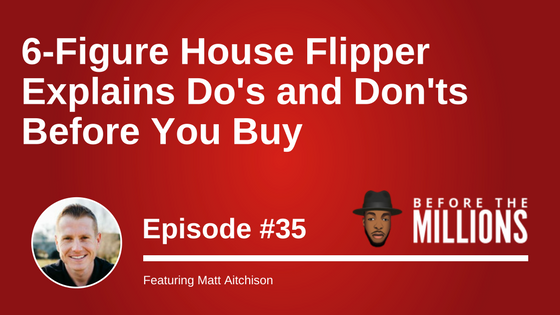 Wait! Before you invest or even flip your first property, there are a few things you should know. On today's episode we interview a millionaire a few times over but more importantly an expert at "6-Figure House Flips".
Matt Aitchison, a millennial entrepreneur, 7-figure real estate investor, speaker and avid adventurist. He overcame criminal charges, committed to doing the extraordinary on a daily basis, and decided that entrepreneurship would be his vehicle of choice to unlock the life he'd always dreamed of.
Fast forward to today, He has started several 6 and 7 figure businesses, he's traveling the world, he get to work with some of the brightest minds on the planet, and most importantly, we've been able to sit down with him for an interview and share with you some of his greatest tactics.
Topics discussed on today's episode:
How to get into your first flip
The value of a mentor
The right way to win over a potential home seller
The transition from flipping to investing
Links mentioned on today's episode: