BTM 17: Physical Products vs Affiliate Marketing with Digital Nomad Derek Pankaew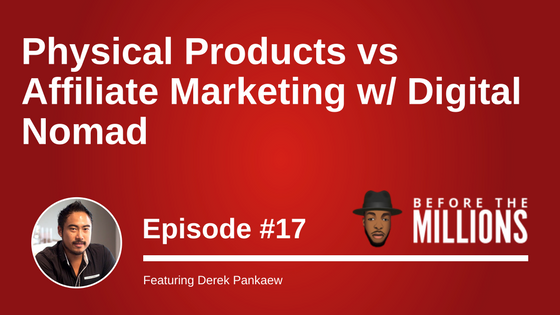 Today we welcome Derek Pankaew, Performance Marketing Manager at KIND and Co-founder of Flexr, the world's first foldable, travel-friendly pullup bar. Derek has years of experience with organic and paid marketing channels and was responsible for managing the supply of these products in addition to sourcing manufacturers and suppliers. He's sold multiple six figures in information products, and has done the same with physical products.
In this episode Derek discusses how he got involved in the digital marketing industry and what led him to starting successful e-commerce companies. He also talks about his latest venture, FLEXR and gives advice and tips to anyone wanting to get into the e-commerce world.
Key Points From This Episode:
At what point Derek decided to drop school and someday become an entrepreneur.
How Derek grew his skillset in the internet marketing space.
When Derek started utilizing his skills to create his own business.
Hear how Derek started off in affiliate marketing and why it's difficult as a first-timer.
The transition from affiliate marketing to e-commerce.
Why it's easier to sell physical products than digital products.
Understanding Derek's WHY for building big businesses.
The importance of paying attention to the long term.
Discover how FLEXR came about.
How Derek incorporated the Nutrabear business model to be successful.
Find out what a typical day is like in the life of Derek.
Hear about Dan's travel rewards course, Travel Hacking.
Understand why Peter Thiel's book, Zero to One is one of Derek's favorite books.
Discover where Derek invests his money.
Derek's mentors throughout his career that have helped him get to where he is today.
Getting into e-commerce and learning through doing.
Tweetables:
[spp-tweet tweet=" "I was shocked at how easy it was to sell physical products compared to digital products." — @dpankaew "]
[spp-tweet tweet=""Pay more attention to the long term." — @dpankaew"]
[spp-tweet tweet=""I think cryptocurrencies have a much brighter future." — @dpankaew "]
Links Mentioned in Today's Episode:
— FLEXR
— Robert Kiyosaki's book, Rich Dad, Poor Dad
— Get Free Flights With Travel Hacking!
— Peter Thiel's book, Zero to One
Access The Best Strategies, Tips & Advice!
Every week, we send an email sharing my best advice, tips and strategies related to Real Estate Investing. Each of these weekly emails contain relevant and actionable information that can help you no matter where you are in your investing journey.