BTM 20: Incarcerated Drug Dealer Turned Millionaire Tycoon with Jay Morrison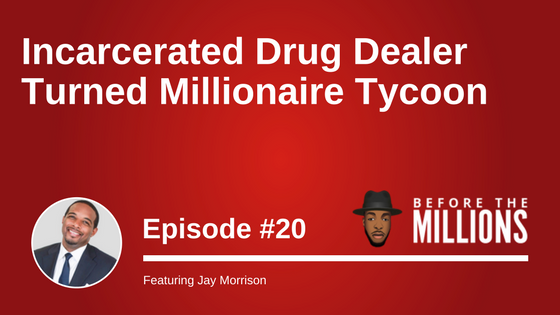 Today we had the pleasure of speaking with Jay Morrison,, also known as "Mr. Real Estate". Jay is a successful real estate investor, realtor, TV personality, entrepreneur, social activist and the CEO and founder of the Jay Morrison Brand and the Jay Morrison Academy, an online real estate school and mentorship program.
A high school dropout, at risk youth and three time felon, Jay made a major life transformation for the better over a decade ago and now uses his life experiences and personal story of triumph to empower and impact the lives of thousands of his Academy students, troubled youth, ex-offenders and real estate professionals.
In this episode, Jay talks about how he got started in real estate and before being in real estate and being an entrepreneur he was in the drug game and how he was in and out of jail. He talks about the similarities between the real estate game and the drug game and some of the hardships he went through and lessons that he learnt just by being in that environment.
Key Points From This Episode:
Hear how Jay's journey began growing up poor and surrounded by drugs.
Listen as Jay explains his experiences in prison and what his mindset was like after.
Find out how Jay was introduced to real estate and the principles of financing.
Understand Jay's long term play as a drug dealer.
Discover how Jay managed to build a life for himself after prison and drugs.
Jay draws parallels to drug dealing and real estate.
What Jay loves about entrepreneurship and business.
Learn more about Jay's first real estate transaction with his mom.
Jay's goals as an early entrepreneur in real estate.
Being intentional about giving back and using his story to help others.
A day in the life of Jay Morrison and his keys to success.
Jay's favorite before the millions book, Og Mandino's University of Success.
Sacrificing time and being committed to your goals to be successful in your endeavour.
Making the investment in yourself to get groomed into business.
Advice for people wanting to get into real estate.
And much more!
Tweetables:
[spp-tweet tweet=""I believe in the possibility of possibilities." — @MrJayMorrison"]
[spp-tweet tweet=""My mindset has always been strategies and operations, always been plugging the holes." — @MrJayMorrison"]
[spp-tweet tweet=""Investing in real estate means you're putting yourself in a position to be the owner." — @MrJayMorrison"]
[spp-tweet tweet=""We all have a corner to come off of." — @MrJayMorrison"]
[spp-tweet tweet=""Most people underestimate the amount of work and effort and intensity that it takes to become super successful." — @MrJayMorrison"]
Links Mentioned in Today's Episode:
House Hack Secrets Mini Course
— Jay's book, Lord of My Land: 5 Steps To Homeownership
— Jay's book, Lord of My Land: 5 Steps To Homeownership
— Angela Yee, The Breakfast Club
— Og Mandino's University of Success
Access The Best Strategies, Tips & Advice!
Every week, we send an email sharing my best advice, tips and strategies related to Real Estate Investing. Each of these weekly emails contain relevant and actionable information that can help you no matter where you are in your investing journey.